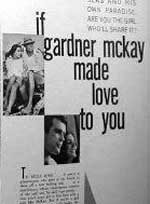 Those of the newspapers...

"A new Apollo for the women..." wrote the Life magazine in 59. You can imagine that such a figure would inevidently brighten his natural charm of seduction. Gardner knew that very well. He loved the presence of women and was not hidding it, even if he did'nt talk much about them. However he was often picture taken with many of them.
In spite of himself, girls were "knocked down dead" by his sex-appeal! His bachelor status gave good feeding to the US. tabloids, who "married" him with all the new stars of the moment. In fact, only in the 60's, 19 were counted by the press... of which randomly (but many are missing of course!):
Suzy Parker

(photo)

, Chanel Top model, who was so well photographed by Richard Verdon,

Françoise Saint-Laurent,

Agnès Laurent, a french starlet with whom who he liked go hunting in the Palm Spings desert,

Ziva Rodann (

photo

), an Israeli actress,

Tuesday Weld (

photo

), who played in the episode

Velvet Trap,

Ann Margaret (photo right), with whom he played in The Pleasure Seekers

Diane McBain,

(photo right), a beautiful actress, who played "Liz" in

"I Sailed to Tahiti With an All Girl Crew",

Dorothy Provine (

photo

), flashy bouncy blonde who played in the TV series

The Alaskans

and

The Roaring 20s

.

Marsha Krell,

Nancy Harmon,

Joan Collins, who became famous in the TV series Dynasty

Soraya, who became the Shah of Persia's wife.

Loretta Swit.

Gardner met her in the 1960's when they starred in a play together in a small town in New Hampshire (USA). She later played "Any Wednesday" with him in 1967. Gardner appreciated to work with her on stage, but that was it. She wanted to date him, but they had incompatible charactors. Unfortunately, their friendship broke up when she once asked to come to his Berverly Hills house and have a photo taken with his cheetah in a magazine for her private collection. The photo was later printed in "The National Enquirer" with a caption saying that they were an item and were engaged. Gardner felt cheated and refused to speak to her for the ten following years...**

She later became famous for her role as "Hotlips Houlihan" in the long running TV show, "M.A.S.H."
Those of his heart, probably...
Kay. She was 15 and a cute little blonde. He was 16 (1948) and madly in love. His first love ... at Darien (Connecticut)*,

Greta Chi, a lovely eurasian girl (photo with Gard -see also many others in "Gallery"page). They stayed together for a long time.

Julie Newmar (her photo with McKay), a tall and independent actress. When talking of her height (5'10"), she used to say: "It doesn't bother me, one see me better. Furthermore, when seeing a mountain, most of men wants to conquer it!". She is most known for her leading part in the TV series "Cat Woman".

Barbara Bouchet, known as "Didi" or "Heidi", born on 15th august 1943 at Reichenberg in Sudete Rép.(ex-Tchecoslovakia, invaded by the Nazis), This beautiful blue-eyed blond was only a model when she met GMK in Paris in 63. He travelled with her in Egypt in 63-64. According to the press, she was to get married to him, but Gardner never proposed to her. Barbara was later seen as an actress, first in TV series such as: The Man from UNCLE(64), Star Trek (66), then took the part of "Moneypenny" in the James Bond movie Casino Royale (67), and finally will become, just like Barbara Steele, a pin-up actress in italian fantastic movies (1969-82).Her last movie was Scorcese's Gangs of New York...,

Dolorès Hawkins, a top model from New-York (Ford Modeling Agency). They dated for at least five years in the 60's. When he was working in Hollywood, he would fly to New York over the weekend just to visit her for a few hours. She spent time with him in California and Acapulco also, and they made some cigarette commercials together. They had also been on modeling assignments together when he lived in New York (*). The press stated, in spring 62, that McKay wanted to marry her, which was immediately denied.

Laila Nyborg. At the age of 19 (1961) she moved from Sweden to Paris and became a successful model. Laila stayed in Paris for five years and met Gardner McKay during her time there. After her time in Paris she moved to Mexico City and after a couple of small parts in Mexican movies Laila landed the lead in "Vanessa" (1970) - Photo with Gardner.
(Thanks to a swedish friend for these details).

Gardner had finally many girls in his arms, either on screen or in real life, but he always said that he would never get married, or ask a woman to marry him unless he was sure that it was going to be forever. He was true to his word.

*Thanks to Ashley for these infos.
** Corrections made by Mrs Madeleine McKay (Feb 2005)

See gallery page with Gardner and all the girls.