I do not know if you are like me, but I have still some TV images from the past, which gives me so much pleasure in my memory...

Many years ago, in times when the TV was so small, that it fitted in a wooden mahogany veneer furniture, were broadcasted many beautiful series which delighted my young eyes, like Bonanza or Rin Tin Tin. But there was one which overwellmed my dreams with adventures and sailing trips on the Ocean: that was "Adventures in Paradise". In those days, there were 15 western and comedy series broadcastest on the 3 existing U.S. channels (CBS, NBC and ABC). For the first time, that new series showed no shooting or slapsticks, but just a man, a boat and the South Seas, "wrapped" in romantic exotic adventures. Just happiness for all young viewers!

In spite of the lack of color, young kids, like me, didn't need much imagination to see the turquoise blues of the Coral seas or the greens of the Coconut trees. All you needed was to let yourself go, watch the extraordinary and gripping adventures of the Captain Troy and his fellowmen in the heavenly Islands of Polynesia.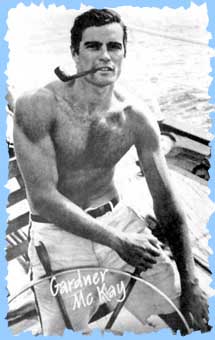 The series ran for 3 seasons (1959-62) in 91 episodes of about 60 minutes each. It tells the romantic and detective stories of a Korean war veteran, Adam Troy, (played by Gardner McKay, a tall (6' 5") handsome athletic-built actor (200 pds), who buys a 82 feet schooner, called "Tiki" and is in search for new cargo or/and rich passengers (female are preferred!) to charter from island to island. The series was inspired by James A. Mitchener' book. He contributed to the script in the first episodes. Some said that he sold the idea to the 20th Century Fox, but then he quit the project.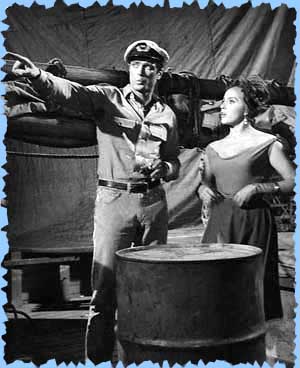 In the beginning, Troy's partner was Oliver Lee (Weaver Levy), a chinese-american, later assisted in 1960 by the chief sailor Clay Backer (James Holden), who the following season became director of Bali Miki Hotel. Troy's partner part was then held by Chris Parker (Guy Stockwell). (the cast).
Apart from Gardner McKay 's charisma, the TV series's success was certainly due to the great support from the numerous guest stars (some famous in those days), which the 20th Century Fox had under contract and made the 'fill-in'!
Now, if you have the courage to go further, you will be surprised, just as I was when I created this site.
I discovered a fascinating, original and truly very interesting person, under the name of Gardner McKay, and it definitely encouraged me to know more and better.
Good surf... on the waves of the Pacific!

As I am french, this site was initially been created in my language. Please excuse mistakes and stylistic errors in my translation. Perhaps US viewers don't know but that series has also been an enormous success on the other side of the Atlantic too...

After I received emails from the States, I thought that english speaking fans could be a little frustrated not well understanding what was written, so I decided to adapt and launch this english version. I hope you will like it.

The webmaster and great fan of the TV series,

Francois Liot,
South of France.
P.S. I would like here to thank all the web-viewers who have written nice words in the guestbook.
But, over all, my very special warm thanks goes to my dearest three "Angels" from the States, without whom this website would not have existed with such richness: numerous pictures and important information on Gardner McKay gathered for nearly 40 years by my "girls" are priceless.
Thank you Ashley (see her drawings) & Beverly - both from Florida (who through this website have met), and thank you Ellen - from Alabama. You are wonderful! This is your website.