Gardner's birthday on board SS Bremen. From left to right: Gardner, Grandma "Mom", Dad Hugh, Mother, and Hugh the brother
5 years old
On the beach
Gardner 9 (right), playing with Hugh in Central Park - New York (USA)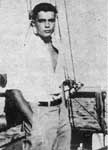 Gardner as a teenager. "Dad paid $1500 tuition for travel-study on schooner. No other students showed, so captain took passengers. Gard became 1st mate, took over the ship when captain collapsed, spent 11 months at sea" says the caption under this picture.
With his eldier brother Hugh, who became a teacher at Yellow Dog (Colorado). Has 2 children.
Caption left: At 17, Gardner with his pal Don (left) was star of Lakemont Academy football team resented conforming, broke rules, lived for summer sailing. Year before, he took Dad's sloop, ran away to sea for 3 1/2 months: Result: closer tie to "austere, purposeful" dad".